As much as we love the idea of expansive, all-encompassing boards, having a minimalist outlook has its advantages. If you need portability above all else, here are 10 pedalboards that combine an on-the-go vibe with pro-level features.
---
Schmidt Array SA350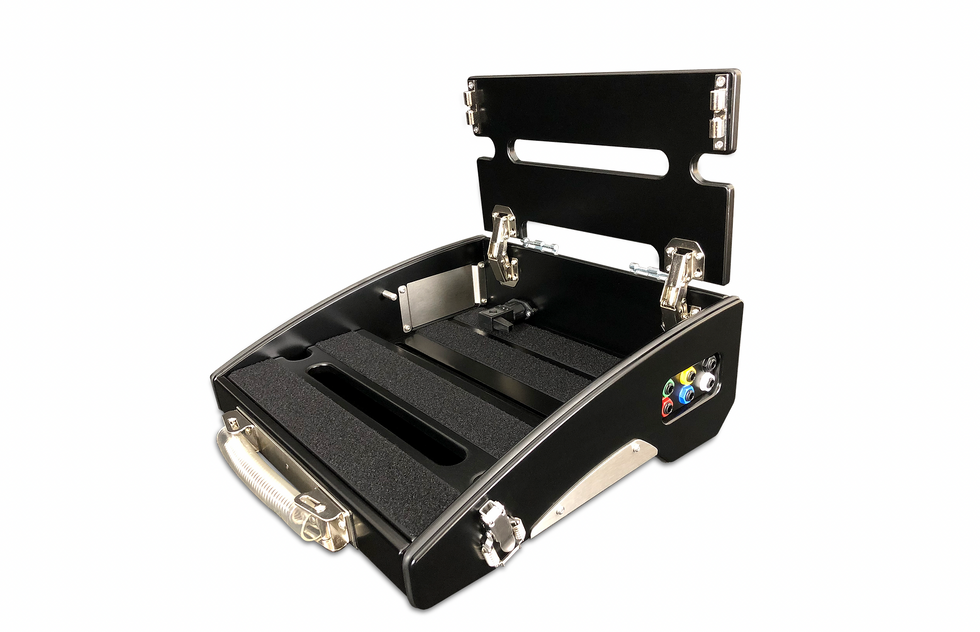 This double decker setup offers pro-level features within a road-worthy enclosure that has a hinged upper deck, IEC power socket, room for two custom patch bays, LED lights, and a USB rechargeable power pack.
$513 street
Blackbird Feather Board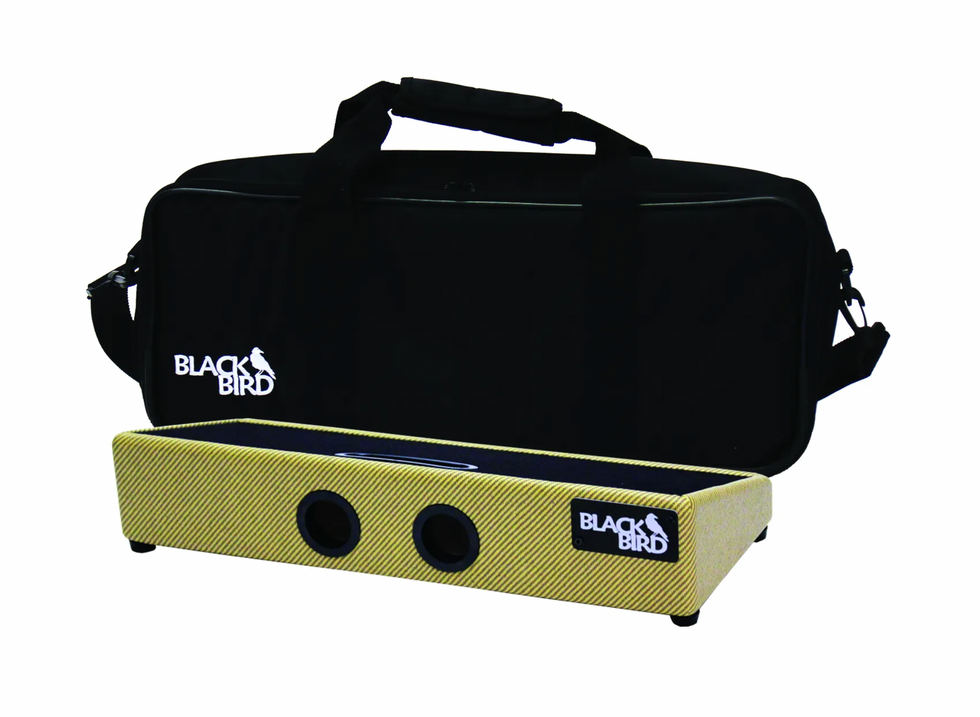 Available in a few different Tolex options, this barebones setup can carry about five regular-sized pedals. It also has two power bays for easy access and has a built-in loop top to keep your stomps secure.
$80 street
Mono Pedalboard Small
This sleek board that's crafted entirely out of a single piece of lightweight aluminum offers a ton of flexibility due to the cutouts. The comfortable incline allows plenty of access to the back row of pedals and room to mount a power supply underneath.
$199 street
Gator GPB-LAK-1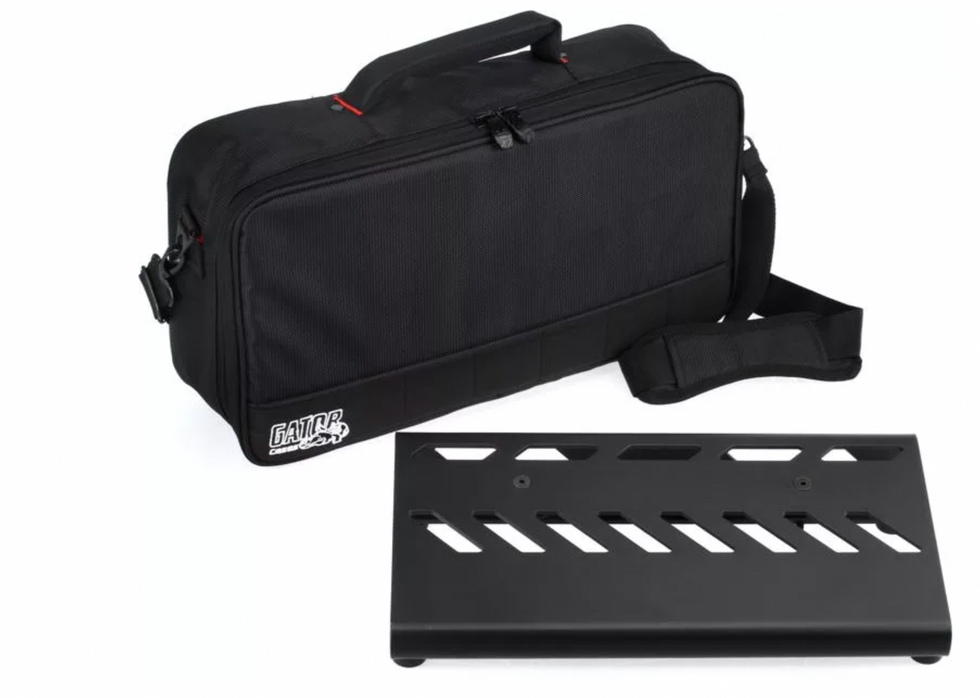 If you only need to pack a few pedals, this rugged setup might be the way to go. It has several cutouts for cabling, a mount underneath for a power supply, and it comes with a deluxe gig bag.
$119 street
SKB 1SKB-PS-8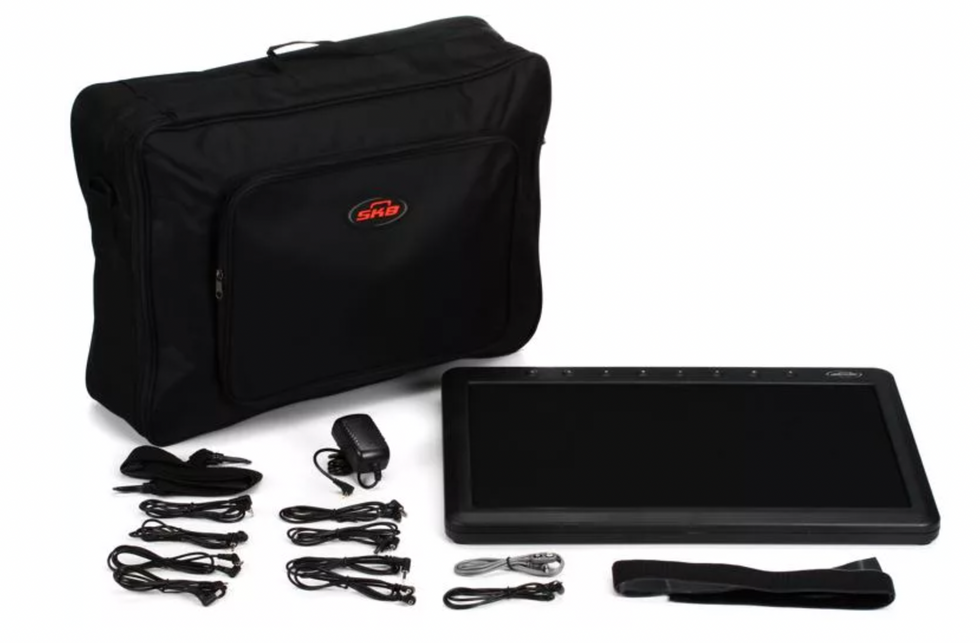 This low-profile setup contains an integrated power supply that can fuel up to eight pedals, plus it includes all the various cabling you'll need to get up and going. Bonus: It also comes with a nylon gig bag with a shoulder strap.
$149 street
Voodoo Lab Dingbat Small
Crafted from aircraft-grade aluminum, this board weighs less than 3 pounds, is custom designed to work with Voodoo Lab power supplies, and comes with hook-and-loop mounting fasteners.
$169 street
Pedaltrain Metro 20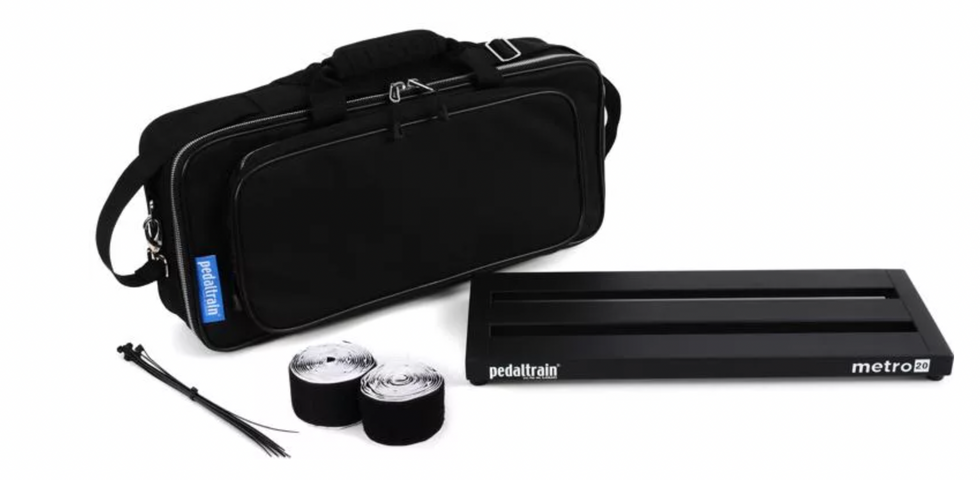 This three-rail system comes in at 20″, which can likely handle up to nine pedals comfortably. Its durable, low-profile frame offers plenty of room for a power supply underneath and comes with both hook-and-rail tape and zip ties.
$99 street
Boss BCB-30X
An ultra-portable board that is integrated with a hardshell carrying case and comes lined with high-density foam. You can even cut the foam to create a customized fit for your pedals.
$74 street
D'Addario XPND 1
Not sure how much space you'll need? This fully adjustable pedalboard can be customized to your current needs by simply expanding the available real estate. It stretches from 13.75″ to 24.75″ and comes with an inventive cable management system.
$99 street
Temple Solo 18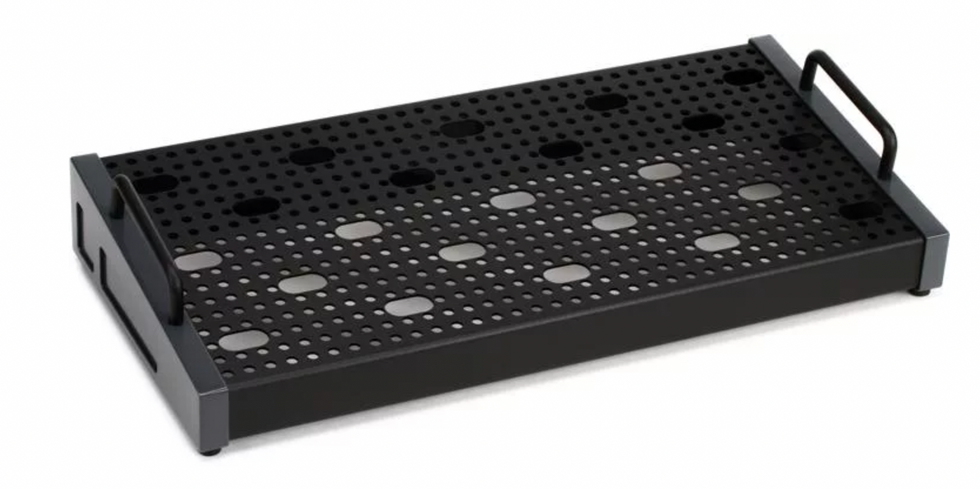 Designed with an entirely modular approach, this board uses the company's quick-release mounting system to keep your pedal secure and offers different modules to keep the inputs and outputs as streamlined as possible.
$109 street
From Your Site Articles
Related Articles Around the Web
window.REBELMOUSE_LOWEST_TASKS_QUEUE.push(function(){
function setCookie(name, value, expires) { var cookie = name + "=" + value + "; path=/; domain=." + location.hostname.replace(/^www\./i, "");
if (typeof expires !== "undefined") { var now = new Date(); now.setTime(now.getTime() + expires * 24 * 60 * 60 * 1000); cookie += "; expires=" + now.toUTCString(); }
document.cookie = cookie; }
function getCookie(name) { var cookies = document.cookie.split(";"), toReturn;
for (var i = 0; i < cookies.length; i++) { var cookie = cookies[i].trim(); if (cookie.indexOf(name + "=") === 0) { toReturn = cookie.substring((name + "=").length, cookie.length); } } return toReturn; } (function() { var pageviewCount = getCookie("pageviewCount"); if (typeof pageviewCount === "undefined") { pageviewCount = 1; } else { pageviewCount++; } setCookie("pageviewCount", pageviewCount, 30); })(); }); window.REBELMOUSE_LOWEST_TASKS_QUEUE.push(function(){ var onWindow = function(event, callback) { if (typeof window.addEventListener !== "undefined") { window.addEventListener(event, callback, false); } else { window.attachEvent("on" + event, function() { callback.call(window); }); } }; var onWindowLeave = function(callback) { onWindow("mouseout", function(originalEvent) { var event = originalEvent ? originalEvent : window.event, element = event.relatedTarget || event.toElement; if (!element || element.nodeName === "HTML") { if (typeof callback === "function") { callback(); } } }); }; onWindowLeave(function() { dataLayer.push({ "event":"exit_intent"}); }); }); window.REBELMOUSE_LOWEST_TASKS_QUEUE.push(function(){ !function(f,b,e,v,n,t,s) {if(f.fbq)return;n=f.fbq=function(){n.callMethod? n.callMethod.apply(n,arguments):n.queue.push(arguments)}; if(!f._fbq)f._fbq=n;n.push=n;n.loaded=!0;n.version='2.0'; n.queue=[];t=b.createElement(e);t.async=!0; t.src=v;s=b.getElementsByTagName(e)[0]; s.parentNode.insertBefore(t,s)}(window, document,'script', 'https://connect.facebook.net/en_US/fbevents.js'); fbq('init', '2443260782583307'); fbq('track', 'PageView'); }); window.REBELMOUSE_LOWEST_TASKS_QUEUE.push(function(){ IcreateElementChangeListener(".current-post",function(){ var allListicles = document.querySelectorAll(".rebellt-ecommerce"); var productArr = new Array(); var productPriceArr = new Array(); var allAmazonListicles = document.querySelectorAll(".amazon-assets-widget"); for(var i = 0; i


Source by [author_name]